[169.1]
SOUND A LA MOOG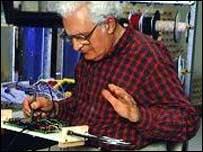 Sad to hear of the passing of
Robert Moog
, whose synths inevitably impressed themselves on my sound world in the 1970s. Whatever dubious uses have been made of his technology (and there have been more than a few) he is up there with Russian inventor
Leon Theremin
and others as a pioneer in the gamut of electronic music traversing fields as different as
musique concrete
, modern expermentalism, jazz and art rock.
As
Allan Kozinn
observed in the
New York Times
(today): "At the height of his [instrument's] popularity, when progressive rock bands like
Yes
,
Tangerine Dream
,
Kraftwerk
, and
Emerson, Lake and Palmer
built their sounds around the assertive, bouncy, exotically wheezy and occasionally explosive timbres of Moog's [synthesisers], his name (which rhymes with vogue) became so closely associated with electronic sound that it was often used generically, and incorrectly, to describe synthesizers of all kinds."
The
Moog company
's particular specialty was the
Ethervox
a version of
the theremin
[pictured, with Robert Moog], an eerie-toned instrument, created in the 1920s, which allows performers to create pitches by moving their hands between two metal rods.
Bob's family has established
The Bob Moog Memorial Fund
dedicated to the Advancement of Electronic Music in his memory. Many of his longtime collaborators, including musicians, engineers and educators, have agreed to sit on its executive board. For more information about the foundation, contact
Matthew Moog
at
mattmoog@yahoo.com
.
Comment on this post:
NewFrontEars